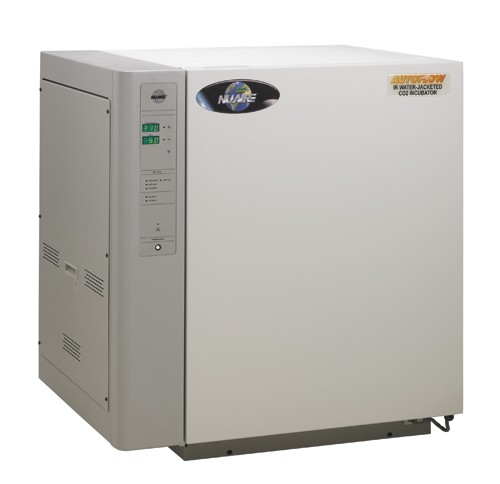 *견적이나 기타 궁금하신 사항은 게시판을 이용해 주십시요.^^
제조사 : NUAIRE , USA
제품명 : NU-4750
*대형 챔버사이즈(188Liter)와 동급 최대 Water Jacket Reservoir(75.7Liter)를 보유하고 있어 도어 개방시 열손실이 적은
Water Jacket대표 모델입니다.
*IR SENSOR 장착으로 Co2 영점 보정이 불필요합니다.
*NUAIRE 제품의 보증기간은 2년입니다.
-FEATURES-
Closed Loop HEPA Filtration
Limits the need for moving parts minimizing vibration. An air pump injects filtered air into the work chamber. The air recirculates through sensor checkpoints before it is re-injected into the work chamber passing through a 99.99% HEPA filter. This system slows air movement to one chamber air change every 30 minutes. The decelerated air movement ensures ISO class 5 air conditions to minimize cell desiccation by airflow.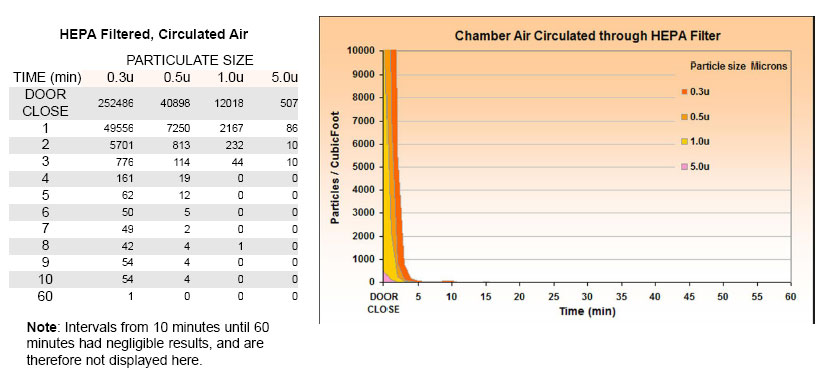 HEPA FILTER 유무에 따른 그래프 입니다.
NICE Electronics
NuAire Incubator Control Electronics (NICE) is a state-of-the-art microcomputer based control system specifically designed to service the precise control requirements of the chambers environment, providing optimum programmable conditions for culture growth.
Constant Contamination Control
A unique HEPA filtration system filters fresh air into the pump, CO2 gas from tanks or house systems, IR CO2 sensor sample air returning to the change, air between air pump and inner chamber, while continuously filtering the internal chamber to create ISO Class 5 air quality.
Sensitivity and Accuracy of Gas Control
Infrared (IR) CO2 sensor provides stable outputs requiring less calibrations.

-specification-
Model
NU-4750
Chamber Volume
6.65 ft.3 / 188 L
Exterior Dimensions (W x D x H)
in. [mm]
31 x 25 ½ x 34 (787 x 648 x 864)
Chamber Dimensions (W x D x H)
in. [mm]
21 ½ x 21 x 25 ½ (546 x 533 x 648)
Weight
222 lbs. / 101 kg.
Temperature Control System
Range
18°C to 55°C
Sensitivity
± 0.125°C
Uniformity
± 0.2°C at 37°C
Accuracy
± 0.0125°C
Display Resolution
0.1°C
CO2 Control System
Range
0.1 to 20%
Accuracy
± 0.1%
Recovery
5.0% ± 2.0% in 3 minutes 30 seconds
Uniformity
± 0.1%
Display Resolution
± 0.1%
Warranty
2 Year Parts and Labor (US & CA)
3 Year Parts (Intl)
Accolades
UL, UL-C, CE, Energy Saver, RoHS, Constant Contamination Control, Critical Cleaning Components
Please note specifications are subject to change. Please contact NuAire to verify before purchase.